History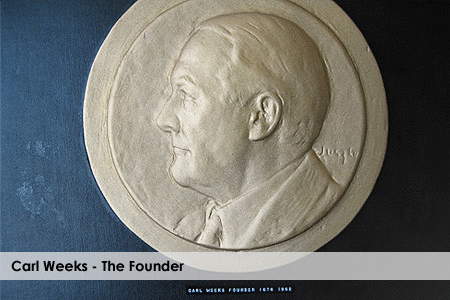 History of Weeks & Leo Co., Inc. (1872 - Present)
1872 - 1916 *Formative Years in Des Moines, IA
In 1872, Lowell Chamberlain started the first Iowa drug company. In 1881, he moved his company, Chamberlain Medicine Co., from eastern Iowa to 206 Court Avenue in Des Moines. Officers of the company were D. S. (Davis) Chamberlain, Lowell Chamberlain and Izanna Chamberlain.
In 1892, Chamberlain Medicine Co. was incorporated and achieved national distribution.
By 1900, the business was flourishing in a large new plant located at 702 Sixth Avenue. Over the next twenty years, branch offices were opened in South Africa, Australia and Canada. A copy of 'Chamberlain's Almanac' from 1923 advertised popular products such as Chamberlain's Cough Remedy, Chamberlain's Liniment and Chamberlain's Pain Balm.
With profits earned from Chamberlain Medicine Co., Davis Chamberlain began construction in 1900 of a home on Grand Avenue at 35th Street. The home, known then as 'West Chester', was designed by William George Rantoul and is the oldest example of Tudor-Jacobethan 17th century English architecture in Des Moines. In 1949, the Chamberlain home was purchased by Iowa Methodist Homes and became Wesley Acres Retirement Home. Restored in 1986, the home today continues as a centerpiece and integral part of Wesley Acres.
About 1910, Davis Chamberlain bought the business from Lowell. Around this time, Davis also built Chamberlain Hotel at 7th and Locust.
A sister of Lowell and Davis Chamberlain, Laura Chamberlain, married a veterinarian named Charles Weeks from the Cedar Rapids, Iowa, area in the mid-1800's. Charles Weeks was recognized as the first man in Iowa to feed, breed and house a large swine herd twelve months of the year in confinement houses. Due in part to the use of confinement houses, Iowa became one of the largest hog breeding states.
Charles and Laura Weeks had three sons, Deyet, Leo, and Carl Weeks who was born December 2, 1876. After Charles was killed in an accident, the Chamberlain family's financial assistance enabled Carl to graduate from pharmacy school around 1893 and Deyet to start the D. Weeks Company in 1897.
In 1909, Carl joined his brothers, Deyet and Leo at the D. Weeks Company where they manufactured what was then known as 'patent medicines' or today as 'over-the-counter' drugs. They also started a separate company at the same location, D.C. Leo and Company Private Label Medicines.
In an effort to advertise their products, Deyet Weeks stumbled upon the idea of direct mail. Because newspaper advertising and 'cold-calling' on accounts were both too expensive, Deyet decided to attempt to reach prospective customers through the mail. On their first mailing of 50 letters at two cents a piece, they received 40 orders. Within three years the mail order business was booming. Deyet Weeks is now credited as being one of the first persons to use direct mail as a marketing tool.
1916 - 1935 *Success & Salisbury House
In 1916, the Armand Company was incorporated under the leadership of Carl Weeks. Armand products had previously been sold under the company names of Carl and Leo Weeks Brothers Inc. and the D. C. Leo and Company. An amendment by Carl and Leo Weeks Brothers Inc. changed the name of that company to the Armand Company. The Armand plant was located at 120 Des Moines Street. Using only the finest imported ingredients, Italian talcs and colors, and French absolute perfume oils, the products gained acceptance quickly. A New York package designer created a pink and white gingham hat box package that helped captivate the market. By 1927, Armand was number one in the United States in face powder sales. Additionally, Armand is credited as the first manufacturer to recognize allergens in cosmetics, eliminate them, and so advertise in the Journal of the American Medical Association.
In 1920, Armand Company bought the D. Weeks Company and the D. C. Leo Company.
Around 1925, Davis Chamberlain sold the Chamberlain Medicine Company to St. Louis, MO, interests, retaining only the Chamberlain Golden Touch Lotion. Concentrating their efforts on the lotion achieved them third place in lotion sales in the 1930's and 1940s.
By 1927, Carl Weeks had completed and moved his family into Salisbury House, a six-year project. Salisbury House, a seventeenth century Tudor Manor house, cost nearly two million dollars to build. Much of the exterior and most of the interior was authentic and antique, shipped from England. Salisbury House contains old masters as well as French impressionists artwork. It survives today as a museum with its rare books, tapestries, rugs and furniture.
1935 - 1963 *Pioneering Private Label Concept for Independent Pharmacies Weeks & Leo Co., Inc.
Fortunes changed. Armand's powder sales fell to the new pancake and liquid make-ups during the 1930s. The business had enough momentum, however, to carry it through World War II, at which time shortages and war work sustained Armand well.
During the early 1930s, the D. Weeks and D. C. Leo Companies also suffered sales reverses, mainly due to ill health of Leo Weeks. Carl placed his son, Evert D. (Hud) Weeks, in charge in 1935. Hud was a recent graduate of Wharton Business School.
From the start, Hud was fascinated with the private label business and quickly modernized the D. C. Leo drug line with new items. He added toiletries obtained at near cost from his father's Armand plant across town. The D. Weeks Company medicines were not doing well and so the company was merged into D. C. Leo Company. The new dual company was incorporated under one new name, Weeks & Leo Co., Inc., as it is known today.
The new Weeks & Leo drug and toiletry private label line was an instant success in big urban centers in the eastern United States. Four hundred accounts were promptly opened in New York City alone. Salesmen were added elsewhere and the firm enjoyed near national distribution by 1941.
World War II's ending marked the beginning of the era of mass media advertising. Giants like Revlon and their saturation TV and double-page color spreads made it exceedingly difficult for small toiletry firms to compete.
Armand's new Pearls in Wine line found sales hard to establish with over 50% of the budget going for promotion. Chamberlain Lotion's ad budget was also proving inadequate, plus Davis' son, Lowell, was fatally injured in a laboratory explosion. Even the big Fitch Company of Des Moines, famed for its Band Wagon programs on radio, failed to survive this era of a shower of new products sold with saturation ad budgets. Fitch sold at inventory value about 1955.
By 1950, only Weeks & Leo's private label business was showing growth in health and beauty sales in Des Moines, once an important U. S. center for these products. At this time, Carl Weeks, who was 75 years old, merged his Armand Company into Weeks & Leo Co., Inc. and retired. Chamberlain Lotion was also merged into Weeks & Leo in 1955.
After some attempts to revive Armand, which did not return promotion costs, Hud put this business on a fill order basis only. Chamberlain Golden Touch Lotion, which responded to steady advertising in magazines, has maintained profitable sales to this date.
1963 - 1986 *Urbandale Facility and End of Hud Weeks Era
The Weeks & Leo private label business continued to grow throughout the 1960s, achieving number one position in the field with several competitors in the over-the-counter market but none with note in toiletries. The firm, long in the old downtown Armand plant, built a new five acre facility at 4000 NW 100th Street in Urbandale in 1963, which was unmatched in the industry. Over 150 private label items were offered. Approximately 10% of the U. S. pharmacies were served plus many fine department and specialty stores throughout the United States.
In September, 1963, Arthur D. Peters joined Weeks & Leo Company as Vice-President and General Manager. Over the next 30 years, the company introduced a variety of personalized label styles and continued to upgrade their product line.
During this period, Weeks & Leo Company excelled as a private label manufacturer of over-the-counter cough syrups, elixirs, lotions and ointments. They were known throughout the industry for their various unique formulas in all areas of their product line.
In 1986, Hud Weeks retired and sold the company to the Arthur and Marylin Peters family. Arthur Peters became President and CEO. The couple's six children had been employed at Weeks & Leo at various times throughout their high school and college years.
1986 - 2000 *Peters Family Leadership
In 1987, Joe Peters was named Vice-President and General Manager. Sue (Peters) McCollins and Beth (Peters) McKibbin were already employed in the office of Weeks & Leo. Sue left the company in 1989 to move to Minneapolis. Beth remained with the company until 1998. Mary Peters Baker joined Weeks & Leo as a sales representative for southern California in January 1988. Jane Peters started in 1989 and became Financial Officer in that same year.
In 1992, Joe Peters relocated to Colorado. He remained Vice-President of Sales and Product Development. Mary Peters Baker returned to Des Moines and became Vice-President of Plant Operations. Ann (Peters) VanDyke joined the family business in 1996.
During the early 1990's, the U. S. Food & Drug Administration announced sweeping changes that dramatically affected the pharmaceutical industry. In 1994, due to expanded product testing requirements and regulations which affected the printing and labeling of products, Weeks & Leo Company began outsourcing their manufactured line of OTC medicines.
In 1996, the family business was again dramatically impacted by the deaths of Marylin Peters in May and Arthur Peters in October. Joe Peters assumed the responsibilities of President and CEO of Weeks & Leo Company.
In 1997, the family members, as a management team, turned their attention toward diversifying their existing customer base and product line. Capitalizing on a century of success with their own Chamberlain Golden Touch Lotion, they added several products under the Chamberlain brand. They also introduced an upscale line of Weeks & Leo brand herbals.
2000 - Present *Dawn of a New Era
In 2000, the Peters family sold the company to one its main suppliers, Achyut Sahasra, from Vita-Pure, Inc., a New Jersey based Vitamin Company. All family members retained their positions with the company until mid 2005. Joe Peters left the company to accompany his wife to Australia. Subsequently, Mary Peters Baker and Ann VanDyke also stopped working for the company. Jane Street continues to work for the company as Chief Financial Officer.
Subsequent to Joe's departure in 2005, Sanjay Srivastava joined the company as Executive Vice-President after graduating from Ross School of Business at the University of Michigan, Ann Arbor with an MBA degree in General Management.
Under Sanjay's leadership Weeks & Leo Co., Inc. continues to thrive and has ambitious plans to grow. The main areas identified for growth are new markets for Golden Touch Lotion, new skin-care products, contract manufacturing of cosmetics and finally strengthening company's niche position in the Private Label market.
Weeks & Leo continues to be run like a family business. Currently this family constitutes 19 employees at its plant in Urbandale, IA with 12 sales representatives covering several states of the country. The commitment to quality, customer and community is as vibrant and steadfast today as always.
The company is investing in modernizing its plant, website, ordering system, communication with customer and sales force to stay abreast with latest technological developments. We are serving our loyal independent pharmacies vigorously with new products and better private label packaging. We are also expanding into new markets with quality private label products. We are experiencing substantial growth in contract repackaging and manufacturing business segment as well. Overall, Weeks & Leo has survived for many decades due to its customer oriented business model and is on its path to greater heights using the same philosophy.
Updated June 12, 2009