Private Label Benefits
Private Label Benefits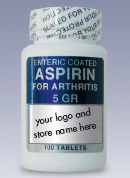 Do you know that loyal customers are more profitable and less costly to manage as compared to new customers? Are you giving your customers enough reasons to come back to your store? Consider offering products with your own private label to flourish repeat business and profitability. Here is how...
Carry a complete line of OTC, Vitamin, Herbal and Toiletry products (unique and national brand equivalents) with your store name
Stamp your trusted reputation on every bottle, every box
Advertise & build store brand to foster customer loyalty
Be part of the growing trend in Private Label an effective way to be competitive by differentiating your store and your brand
What we offer
Complete Line of Top Quality Products OTC, Vitamins, Herbals and Toiletries
Attractive Labels Crafted with Your Logo and Name
Unique Formulations
National Brand Equivalents
Competitive Prices
Volume Discounts
Limited Sales Guarantee for Opening Order
Compare & Save Signs, Shelf Talkers
Helpful Marketing and Promotional Materials
Low Minimum
Exceptional Service Fast Delivery
Free Shipping on Most Orders!